EASY TO ENTER SOCK MONKEY GIVEAWAY
Drawing dates: Dec 20 & 31, 2008
At my other blog on eBay
Off With Her Head
(I'm
mypinkmimosa
over there) I'm publishing a blog style soap opera titled
"As the Blog Churns"
over the Christmas holiday season.
Warning: a droll sense of humor is required to follow along.
At the end of each scene there are 25 Ebay seller's store listings and if you'd like you can enter my drawing to win one of two authentic Rockford Red Heel SOCK MONKEYS in my December giveaway by simply checking out just 5 of those lovely featured listings and emailing me at astheblogchurns@peoplepc.com to tell me WHO is selling those 5 items you looked at. Limit One entry per soap opera scene.
AND there is a second
BONUS
drawing. If you happen to purchase any item from anyone among the Who's Who on Ebay Sellers (who are the characters in the soap) you are entered into a 2nd sock monkey giveaway with no limit to the amount of entries for this drawing. Every single purchase is an entry. Again, just email me to let me know.
The drawings will be held
on Dec 20th and Dec 31st, 2008
AND NOW
, this blog is about those very two SOCK MONKEYS that will be given away and how they come to exist. First, I know an eBay seller, whiteshastadaisy, who sells authentic Rockford Red Heel Socks and bought a pack of two pairs from her. She's so nice she threw in an extra pair of minature socks so I get to make one for my Christmas tree too! Thanks so much whiteshastadaisy!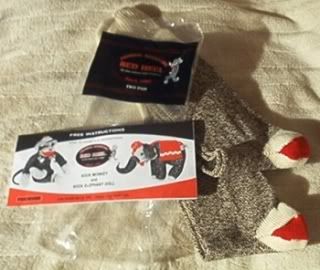 The package came with free instructions to make the sock monkeys or a sock elephant. For the drawing I'm turning these socks into MONKEYS. Come back to this blog to see every step as I bring these two dolls to life. Ohhhh, I feel just like Gepetto!