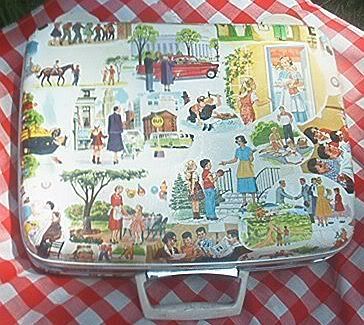 This is a small size white vintage

Samsonite Travel Case

that I'm transforming into a

Picnic Case

.
First I selected a vintage

Children's Book

and cut out the pictures in it. I LOVE these pictures because they take me back to my own childhood. I so relate to the characters from the movie

"Now And Then"

.
With

MOD
PODGE
Gloss-Lustre by Plaid

decoupage glue and a

sponge type paintbrush

I then began arranging the pictures onto the suitcase. Work around the edge first then towards the center. I partially glued some pictures on to decide whether to put the next picture under or over that one as I went along.
On one side I arranged the pictures to see them upright when the case is laid flat and on the other side I arranged them to be seen upright as the case is being carried.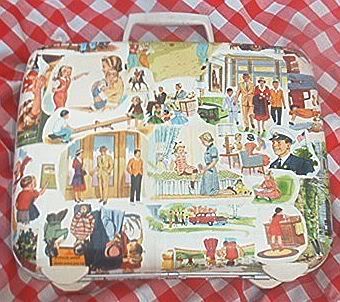 Then when it' was completely covered I applied the first layer of sealant still using the

MOD
PODGE
glue for that as well. The first coat is still tacky. When it's dry I'll add 3 to 4 more coats drying each layer to seal it well then I'll lightly sand the project to buff it with

fine sandpaper

.
So while it's drying I found this

red checkered fabric

and I'm debating on how to turn it into the picnic tablecloth. I may hand embroider a design onto white muslin to add to it. Some red rickrack would be a nice touch too.
The inside is slightly musty so I have bleached the inside and crumpled newspaper in it for a few days to absorb any remaining odor. I've removed the inside liner to replace it with a
corresponding
fabric that I've yet to pick out.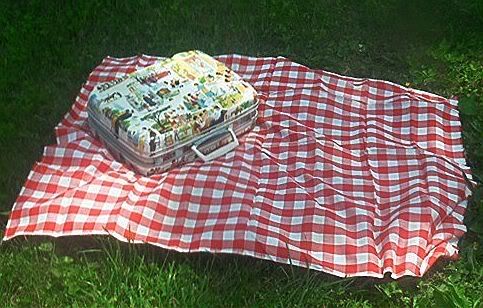 Finally I'll shop for some

retro style plastic dishes

to fill the case for this summer
picnicking
.
This is a

fun recycling project

sure to receive plenty of use!
Isn't it adorable?